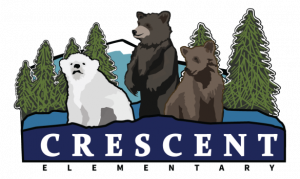 Hello, Crescent Family!                                                           
It has been one extraordinarily fast summer and I hope you are enjoying your last few weeks of the vacation prone to fun and adventure. We have been very busy preparing for another exciting school year developing a healthy, happy, social emotional, behavioral and intellectual learning environment.
I hope you are looking forward to an amazing year together!  We have been through many changes, together we will get through it! I know you are up for the challenge to motivate our students this year by helping them develop a strong sense of self, community, care for others and meaningful relationships while having fun and learning.
We will not be holding our annual back to school night. We want to make sure that we follow state and health guidelines as we begin our journey through unchartered waters. Grade level teams, PTA, SCC, Watchdogs and administration will be creating a back to school presentation that will be sent out through CANVAS. Please use our school website for the latest and greatest, including our current safety plan. https://crescent.canyonsdistrict.org/
Kindergarten teachers will meet with parents and students individually by appointment August 17–19. You will receive an appointment time by August 13th. If not, please call the main office at 801-826-8200.
Everyone is anxious to know class placement for the 2020-21 school year. After everyone has registered for their school option we will reevaluate class lists and they will be made available as soon as possible. No later than 4:01PM Friday, August 14th on skyward.
Note: you must complete all portions of the online registration process to view class placement.
~If  you are new to the school/district please bring proof of address, immunization records, and birth certificates for each of your children. Contact the school for drop in times.
If you have questions, please call us at 801-826-8200 between 9:00-2:00 PM.
I'm looking forward to a great school year!
CRESCENT CUBS ARE COURAGEOUS, because we look out for each other!
Camie Montague
Principal, Crescent Elementary
Crescent Elementary School Plan
V.1 July 23, 2020
Area/Activity

Procedures and Protocols to Mitigate the Risks

Arrival

Students encouraged to wear face coverings as they arrive, if physical distancing is not possible
Students will line up at grade level doors by teacher using physical distancing guidelines
Students will enter grade level doors
Schedule will be staggered by teacher's last name

Breakfast

 

Students will enter through exterior cafeteria doors
Physical distancing tables will be marked for all food services
Breakfast seating will be marked by grade level

Classrooms

Minimize furniture and other things not needed for instruction
Purchase buffs for all students.  Students will have options for face coverings based on need, availability, and safety guidelines.
Appropriate face coverings are not limited to face coverings, buffs, or plastic face shield/covering
Change in language and routines for table or partner work "face covering up…. Share____ with your partner"
When appropriate, students will be forward facing
When reasonable, stations will be assigned to students based off of table partners i.e.…SBI stations, carpet, oral language, boosters
Physical distancing addressed by desks being separated as much as possible
Students will be assigned table partners that they will transition, work, and have lunch with to minimize risk

Hallways

Traffic flow has already been established through our ROARS rules.  Students walk on the right side of the hall
We have square carpet tiles and students will be trained to this space for physical distancing
We already stagger boosters, lunch, and recess.  We will continue to use the staggered schedule
We have already established hands folded, face forward, and no talking in the halls. We will continue to follow these rules

Restroom

1"- 2" blocks will be added to the hinged side of the bathroom doors to prop them open so that students do not have to pull on door handles
We will also train age-appropriate students to use paper towels for drying their hands, to open the bathroom door, and provide additional garbage cans where needed
Bathroom/drinks will be taken care of before going outside, boosters, or lunch
Bathrooms will be sanitized during recesses

Lunchroom

Students have been and will continue to be assigned seating by grade level
The cafeteria and gymnasium will be used to accommodate 2nd grade levels at a staggered schedule
Students will be staggered so that no one is sitting across from each other

Brain Boosters

Playworks will conduct class when weather permits, outside
Students will have assigned seating in all Booster classes
When appropriate, table partners will be assigned to the same Booster group, work station, and lunch table
All students will use hand sanitizer when entering Booster classes
Students will re-sanitize before entering stations where they have manipulatives

Tier II Support

When appropriate, students and instructors will follow physical distancing guidelines
When appropriate, students and instructors will wear a face covering or buff during small group instruction
When appropriate, plastic guards will be used during small group instruction
When appropriate, students and instructors will be provided a plastic face shield/covering

Recess

Create five recess stations for the week.  Grade levels will rotate to each station
Each grade level will play at the same station during grade level and lunch recess that day
Sanitizer/cleaner will be provided when students are touching/using equipment

Lunch Recess

Create five recess stations for the week.  Grade levels will rotate to each station
Each grade level will play at the same station during grade level and lunch recess that day
Sanitizer/cleaner will be provided when students are touching/using equipment

Computers/ Chromebooks / iPads

All technology is assigned to a specific student in all classrooms. We will add sanitizing to our regular routine
In the Booster class, part of clean-up will be sanitizing their own station

Large Gatherings, including Assemblies, Back to School, etc.

We will not be participating in large group activities

Volunteers

We will create a log of who is volunteering. They will check-in at the office. We will have a Volunteer Room where they can work to lessen the risk of COVID.
In order to help mitigate risks and maintain contact tracing requirements, volunteers will not be working in the classrooms at this time.

Special Programs

Orchestra

We have approximately 20 students that participate.  They will continue to meet in a dedicated room
Students will wear face coverings, when appropriate
Students and teachers will observe physical distancing guidelines

Sickroom

Teachers call down to the office prior to sending students with COVID symptoms
Office staff will put on PPE to assess students
Students will be assessed using the state health guidelines
Sick Room bathroom will be used to quarantine one student with COVID symptoms
Our Think Room can be used for overflow
Contact the school nurse
The custodian will sanitize all areas, as needed
The Sick Room will be used as a sick room